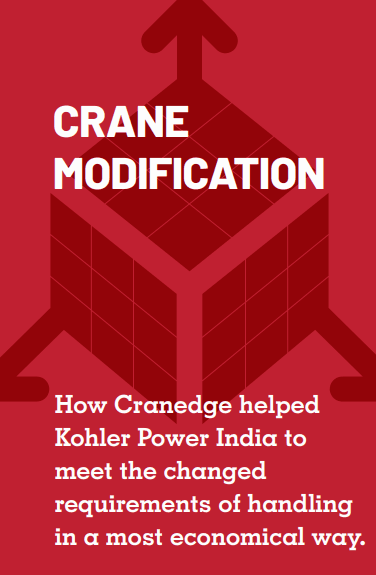 At the Aurangabad plant, Kohler manufactures a range of Diesel Generators from 3.5 to 4200 kVA. When the plant was commissioned in the late 90s, a 1t Single Girder Crane with 4m height of lift (HOL) and 8.5m span from ElectroMech was installed in the packing and despatch area to handle completely assembled generators. The crane was being used extensively for almost a decade and performed satisfactorily over the years.
In the recent years, the company has expanded its range of generators and started manufacturing higher capacity models to meet the market demand. As the new range is of larger dimensions, Kohler was facing difficulty while lifting and manoeuvring them during packing. This was mainly due to the limited height of lift of the crane, and was becoming a major constraint.
When the company approached us for a solution, obviously they did not intend to change the existing crane for two reasons. First being, the crane was performing very satisfactorily even after almost a decade and required minimum maintenance. Second, investment in a new crane was not commercially feasible.
The Cranedge team studied the site conditions and the new requirements. The bay height was adequate to increase the
HOL of the crane. However, the challenge was to carry out the modification without a heavy investment. Our team did a thorough analysis of the structural strength of end-carriages and the main CT girder of the existing crane to ensure that
the intended modification could be carried out without compromising on safety.
Once sure about the strength of the end-carriages and girder, we decided to make use of the available headroom which was about 1.5m.
The option was proposed to the customer with detailed technical drawings and action plan. The idea was to elevate the CT girder by placing a support beneath it at both the ends which would rest on the end-carriages of the crane. This modification was economical, simple and yet foolproof to meet the requirement. Hence, it was immediately accepted by the customer. To minimise downtime and transportation cost, the modification was carried out at the site instead of our Pune factory. The resultant increase in HOL was 1m after the modification. The entire project was completed in just 4
days, which included dismantling the crane, modification, repainting, erection & commissioning, load testing and handing over.
Kohler started manufacturing engines in 1920, and has continually enhanced its product portfolio. Today, the company offers a full array of diesel, gasoline and gaseous-fuelled engines which are supplied to equipment manufacturers worldwide in the construction, agricultural and industrial sectors. Kohler has operations all around the world with 4 Regional Headquarters, 7 production sites, 4 European sales offices and over 1700 service points. Kohler Power India Pvt. Ltd. was introduced in 1997 and has a state-of-theart manufacturing facility in Aurangabad, Maharashtra.
Benefits to Kohler Power Systems
Effectively meeting the changed handling requirements through a carefully planned modification
Easy and safe handling and manoeuvring of even large size generators during packing
Reuse of existing assets through minor modification
Saving capital investment required for procuring a new crane
Savings in transportation cost
Minimum downtime as the modification was carried out at the site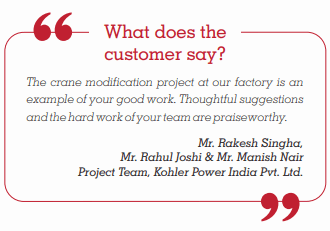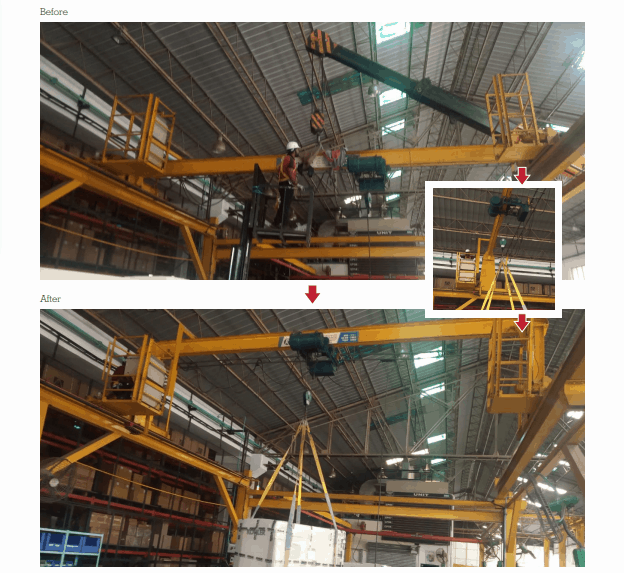 Expert aftersales support for