For safe and smooth operation of your cranes, perfect levels, track straightness and parallelism of the tracks are extremely important. Tracks ensure longer life and safe operations of cranes and their components.
Cranedge offers a specialised and technologically advanced crane rail monitoring system – RAMON for smooth crane installations.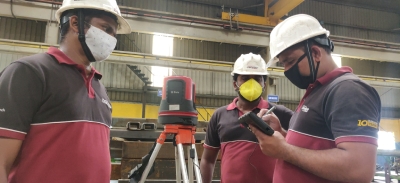 It helps to ensure that crane components and subcomponents have increased reliability and endurance, resulting in maximum availability of your equipment.
RAMON is used to check alignment of rails in terms of span and water levels and identify misalignment. This advanced technique eliminates human error arising out of manual intervention, saving valuable resources like time and money. It enables supervisors to take precise readings at close intervals along with graphical interpretation of reports, which can be presented immediately.
Benefits
Periodic rail monitoring helps avoid situations like:
Premature wear & tear of wheels and shafts
Unpredicted crane downtime
Cost-driven repairs or replacements