Your aerial work platform experiences tremendous wear and tear during its course of working. Preventive health check-ups are important for a longer and healthier life of the equipment to ensure high productivity. So, for this, your equipment requires a structured preventive maintenance plan.
Health Assessment
One-time health check-ups from Cranedge can prove to be useful for your existing Aerial Work Platforms and provide the right assessment with the right solution. It will ensure that the equipment provides trouble-free operation while being in a healthy condition.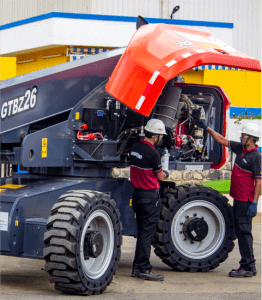 AMC
Furthermore, to cater annual maintenance of the products, Annual Maintenance Contracts (AMC) from Cranedge, have been developed based on our experience across different industrial verticals & sectors. AMC covers all components of equipment to ensure high uptime commitment, integrity, and ability to perform at all levels of use. Moreover, covering your equipment under a Cranedge AMC gives you timely inputs on the health condition of worn-out parts, so that you can be well prepared for replacements.
Uptime Commitment
At Cranedge, we are dedicated towards our customers & provide you with an uptime commitment of 48 hours for providing services for your products anywhere in India. To know more, you can follow us on LinkedIn to get the latest updates in the industry.