Benefits of a Comprehensive AMC for your Crane
Regular maintenance is critical in your equipment's extended useful life, along with reduced downtime and overall operations costs. Still, many businesses overlook and often are in a dilemma to invest in a long-term maintenance strategy until it becomes an emergency and affects your production schedule. 
A Comprehensive Annual Maintenance Contract (CAMC) offer

s

many benef

its across vast

industries and applications. 
1. Fixed Costs
Reactive maintenance planning can sometimes spiral into unwanted costs that significantly affect your annual budget. A comprehensive annual maintenance contract helps you account for and control all your maintenance costs on a fixed basis for long term. CAMC helps reduce the variability in your entire maintenance budget, enabling you to reallocate your funds to other areas of your business without fearing having a shortfall elsewhere. 
2. Easily
Access to maintenance experts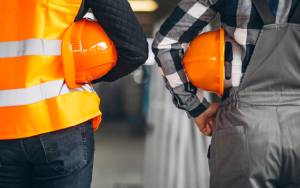 A maintenance contract ensures you have access to an expert in every situation. The contract offers a safeguard to your equipment with an option to have an expert experienced technician to solve any and every maintenance-related problem. 
3. Holistic approach
A CAMC enables you to take a holistic approach toward all aspects of your maintenance requirements. It also offers numerous logistical benefits that lead to an improved bottom line. 
4. Improved

equ

ipment

life
Many times, the term 'maintenance' is associated only with addressing breakdowns and repairs of the equipment as and when they arise. However, maintenance should be a continuous process and part of the system that keeps your equipment in top operating conditions round the clock. The contract gives you access to a genuine spare inventory and also offers replacement of the same. A CAMC is a long-term contract designed to provide the resources that improve the operational capabilities of the equipment, resulting in enhanced production efficiency. 
5. Minimizes Downtime
Adding to the benefits of scheduled and regular maintenance, a CAMC helps to reduce or eliminate production downtime due to equipment breakdowns/malfunctions. The holistic and long-term approach of the maintenance contract helps in planning for downtime and scheduled maintenance during the shutdown period of the production process. 
6. Focused mind
Often, the management has the least priority for maintenance and finds itself in a spot, completing critical maintenance tasks at the last minute, negatively affecting the equipment and other areas of operation. A CAMC eliminates this scramble, helps the leadership with peace of mind, and enables them to focus on other core tasks and bottom-line drivers such as technical innovations and aftersales service. 
Cranedge is an industry leader in the annual maintenance contract domain and is a pioneer in providing comprehensive AMC for EOT Cranes of any make. If you are looking for a service provider that meets your maintenance requirements and goals, contact our Cranedge experts today.