Because Your Equipment Deserves the Best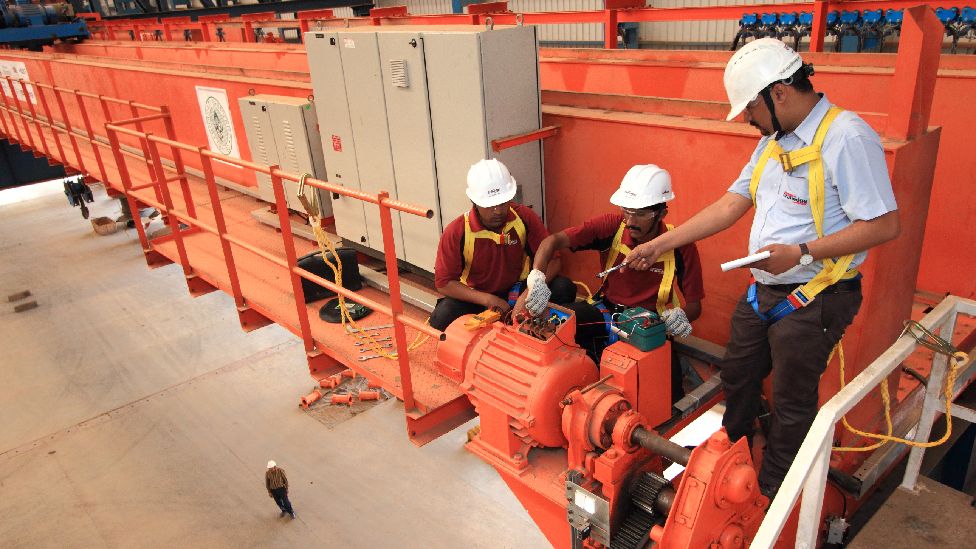 EOT (Electrical Overhead Travelling) Cranes forms an integral part of any industry for lifting and moving materials. Like any other equipment, the cranes undergo wear and tear over a period of time because of the laborious tasks they perform. It therefore becomes essential to have a scheduled maintenance program for the optimum utilization of the crane and trouble-free operation without compromising on the safety of the workforce.
What are the major reasons for the disruption of cranes?
1. Regular breakdowns
2. Outdated design
3. Vigorous duty cycles
4. Major mishaps that can occur due to improper handling.
5. Natural calamities.
Thus, cranes need to be regularly serviced & maintained because the breakdown can result in fatality for the work force, company, and eventually the brand.
We, as a professional crane service company are not only dedicated to providing complete after-sales services for a range of material handling equipment, but we also ensure an unmatched service throughout the life cycle of your equipment. Here are a few of them –
RAMON – Rail Monitoring
Track alignment, straightness, and parallelism are extremely important for the smooth and safe operation of your cranes. RAMON is a specialised and advanced crane rail monitoring system, strategically developed by Cranedge. Periodic rail monitoring helps in avoiding situations like –
• Premature wear & tear of wheels and rails.
• Failure of shaft and long travel motors
• Abnormal sound and vibrations.
• Unpredicted crane downtime
• Cost driven repairs or replacements.
ROMON – Rope Condition Monitoring
For long service performance of your crane, selection of the appropriate wire rope and maintaining its health is very important. Crane Wire rope can weaken with overuse and mishandling resulting in breakage or uneven lifting during operation. At Cranedge, we have developed a unique way to check the wire rope. A portable, non- destructive inspection equipment (ROMON) inspects the wire rope for –
Strength
Flexibility
Resistance to abrasion
crushing, fatigue, rotation, and corrosion.
Annual Maintenance Contracts (AMC)
Apart from the regular health checks of your cranes, a structured preventive maintenance plan is also important.
Annual Maintenance Contract helps in upkeeping the condition of the crane. It gives a regular update and helps you to take preventive measures to stay healthy. A similar thing happens with cranes. The health of a crane also depends on its periodical maintenance plan. A well-structured and detailed maintenance plan will ensure proper preventive measures, thereby warranting better longevity.
What is the Cranedge Advantage?
We have developed our Annual Maintenance Contract based on our experience, working with over 6500 cranes to a wide spectrum of industries in close to 60 countries across the world. Our AMCs cover all the crane components which ensures their performance ability at all levels of use
Remote Monitoring of Cranes
At Cranedge, we believe in the power of data. Our team has compiled the data of more than 35000 cranes of different makes and that acts as a knowledge bank for us. All our team members have an access to required data as they are all connected to the CMMS server and thus, they can serve you efficiently in a limited time period.
From retrofitting VFD drives to radio remote controls, Cranedge can offer best in class solutions to monitor your cranes without a need of being actually present at the sight. This offers a lot of convenience. With the ElectroMech expertise, we have devised solutions to monitor the cranes remotely using IoT, advanced electronics and WiFi communications. For instance, in EKK Infra project in Kerala, we had developed a solution where entire system was programmed for automatic sequential check-up which ensured enhanced safety.
EMote
EMote is an IOT supported solution that helps in remote diagnostics of crane health. Through this, Cranedge team is empowered to offer you remote support for crane operations – 24*7, at any given location.
All this and more, comes with the Cranedge promise of offering resolution for cranes under warranty, anywhere in the world – Within 48 hours. In our upcoming posts, we would continue to talk more about the crane service offerings and the benefits you would reap by your association with Cranedge.