cranes count among the most critical equipment's for capital intensive industries like Infrastructure, Manufacturing, Steel, Power etc. It is therefore important to have a smooth and trouble-free operation of these cranes to ensure higher availability and uptime resulting in increased productivity and profitability.
A few compelling questions that bothers all the above industries are:
How to prolong the useful life of a crane?
How to ensure optimum utilisation of the crane?
How to predict breakdowns and enhance the safety at the workplace?
How to minimise the total cost of ownership?
The solution to all the above questions lies in 'Annual Maintenance Contracts (AMC)'.
Now what exactly is AMC and why are they essential?
In addition to the regular health checks, your cranes require a structured preventive maintenance plan. This plan ensures that cranes provide long and reliable service while remaining in healthy condition. Under AMC, all the major parts and components of the crane are checked to ensure their integrity and ability to perform at all levels. AMC helps in the timely prediction of the health of the parts and components to avoid any undue circumstances leading to crane downtime and eventual production loss.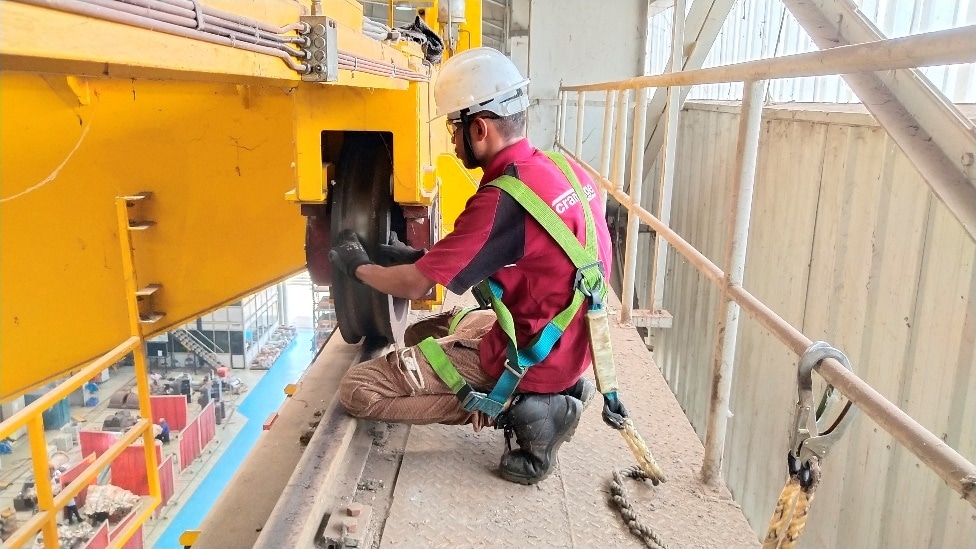 ---
How does an AMC help?
Regular maintenance of cranes under AMC helps to prolong the useful life of cranes and you can be assured that the cranes will continue to work with peak efficiency for years without frequent unexpected failure.
Most AMCs provide emergency services, thus in the event of unexpected failure of the cranes, a crane specialist will always be around you, well equipped with essential spare parts thereby saving time and money which results in productivity for your business.
AMC helps you to reduce the cost of ownership.
A crane specialist handling your equipment is essential for ensuring higher availability, higher uptime, lower MTTR and lower MTBF.
Why Cranedge?
Cranedge Annual Maintenance Contracts have been developed based on our experience with over 10000 crane installations across the globe in almost every conceivable industry.
Our wide range of Crane AMCs are customized according to the requirements and application of the equipments.
Covering your cranes under a Cranedge AMC gives you timely inputs on the health of worn out parts, so that you are well prepared with timely replacement and prevent production downtime.
Cranedge AMC covers all types of cranes from an EOT Crane (an overhead crane), a Gantry crane, a Jib crane, forklift to a simple light duty workshop crane. We have a specialised team who possess an in-depth knowledge on cranes to help you find the right solutions.
Cranedge also helps you to develop key performance indicators for your crane based on their operations and performance.
Cranedge has a huge inventory of spares for all types of cranes thus making repair work convenient and time saving.
As Albert Einstein once said, "A clever man solves a problem, a wise person avoids it." An AMC for cranes does exactly the same, avoids the problems for your business!